Chile, host to the 2017 South American Bird Fair
Now, it´s Chile´s  turn. For the first time since its debut in 2010, and after itinerating through Argentina and Brasil, the South American Bird Fair will take place in Chile from October 26th to 29th in the southern Puerto Varas, in Los Lagos. That´s where the main birdwatching market offer in the continent, led by Brasil, Peru and Colombia, will evolve around exchanging experiences and contacts between companies, writers, artists, institutions, seasoned birdwatchers and newcomers alike.
During the event, the new illustrated field guide to the birds of Chile, Aves de Chile, sus islas oceánicas y Península Antártica (FS Editorial, 2016) will be introduced by authors Enrique Couve and Claudio Vidal, on saturday 28 at 13 hours.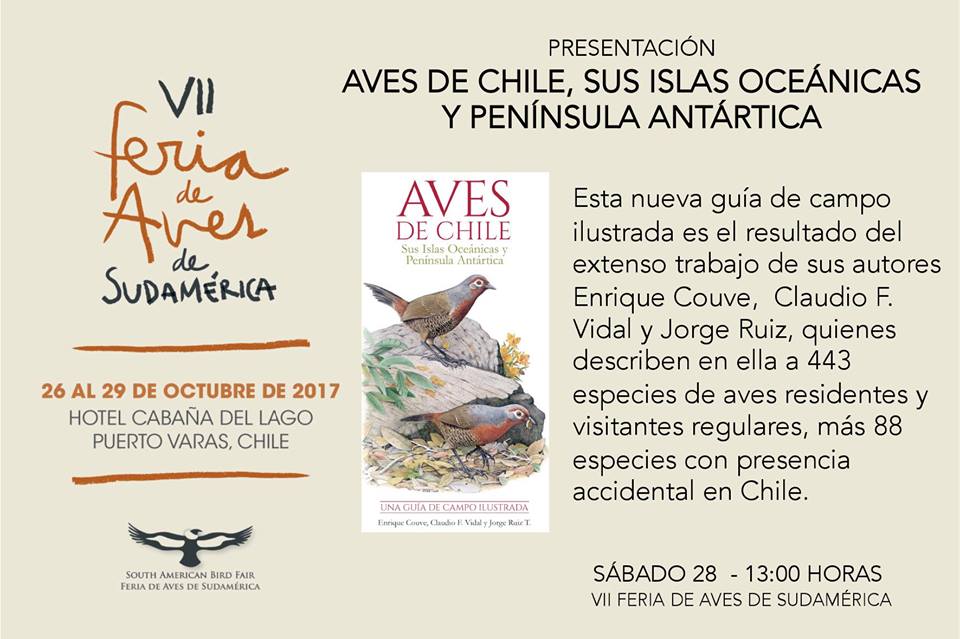 The FAV is organised by a group of regional ornithologists and birdwatchers, among them Horacio Matarasso from Argentina, Steve Sánchez from Peru and Bruno Arantes from Brazil. It is sponsored by institutions such as BirdLife International and Wetlands International plus several others from South America.
Puerto Varas is the place where Birds Chile, the local counterpart in the event, has its headquarters. Raffaele Di Biase, nature guide and founder of Birds Chile, remarks the opportunities to put Chile in the map as a birdwatching destination that the fair brings. "On one hand, this helps in diversifying the offer of sustainable tourism by reaching markets and consumer niches, and on the other, contributing to the cementing of public and private policies aimed to support conservation efforts to protect our natural resources", he explains.
According to Chilean newspaper La Tercera, South America concentrates 30% of de roughly ten thousand species of birds living in the world and Chile could enter the game with its endemic or relatively unknown species. The three thousand or so tourists that come every year armed with binoculars and cameras are still a long way from the 78-million birders industry in the UK or USA, but it is a starting point.
Assistants to the fair will be able to bird around the natural surroundings of Los Lagos, with important birding sites like Vicente Pérez Rosales and Puyehue National Parks.
There will also be field excursions, lectures and  workshops for both new and advanced birders, led by experts in birdwatching from the continent, and also photography workshops. Film makers Paula & Michael Webster will premiere their work Tango in the Wild, where previously unknown images of the courtship in the Hooded Grebe, Podiceps gallardoi will be shown, and afterwards will host a conversation with the audience.
Di Biase states: "The fair is a unique instance to create inter-hemispheric networks between operators, guides and birders to consolidate the activity and its self-regulation through ethical and behaviour codes that put the well-being of the birds and their habitats first." Let it Be..!!