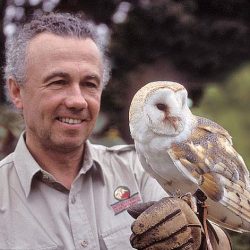 Enrique is an Industrial Engineer by profession, although a field naturalist by true passion. One of the two founders and original driving forces behind the Far South Expeditions concept and company, he has been birding and studying the natural history of Chile for more than 45 years. He is co-author of more than 20 publications on the natural heritage of Chile and Patagonia, and among his published works is the praised 'Birds of Patagonia, Tierra del Fuego and Antarctic Peninsula'. Enrique is a very gifted field spotter, and he uses this skill on his nature photography work, as he has one of the most complete and extensive files on the flora and fauna of the country. Enrique has extensively travelled throughout Chile and South America, its oceanic islands and Antarctica. He is the main author of the long-awaited Field Guide to the Birds of Chile. He is a skilled puma tracker and a pioneer of puma trips in Patagonia.  He is founding partner and manager of Far South Expeditions and lives in Punta Arenas with his wife Cecilia.
Write or call for availability:
Far South Exp on Instagram
We are Birders – We are Leica

Proud to be recognised as a

What our Guest Say!
"Dallas and I have just got back to New Zealand after a most enjoyable holiday and a wonderful introduction to the wildlife of Chile. Many thanks for all your help in arranging this trip.  All the transport arrangements worked well and we were most appreciative of your prompt and helpful replies to our emails.  Ana Maria and Rodrigo were both great hosts as well as having an in depth knowledge of Chilean birds.  We must not forget the drivers Rodolfo and Christian – they were much more than just drivers.  They certainly added to the enjoyment of our time in Chile. We would not hesitate in recommending Far South Expeditions to those wanting to see Chilean wildlife". Geoff & Dallas B. (NZ), October 2017

"Custom photographic tour to Patagonia. My husband and I & our friend traveled with photographer and guide Claudio, exploring and photographing Patagonia. It was a wonderful trip. Claudio and Ruben were amiable and accommodating companions and guides, even in the dark of early morning as we rose before sunrise to position ourselves for the best light. We would love to travel with them again!" – M. Tartar, USA

"Among all my trips to South America the travel to Patagonia was undoubtedly the most exciting one. The staff is exceptional but most of all, we were impressed by the intellect and human qualities of our guide Jaime who accompanied us during our specially designed trip to Tierra del Fuego. Since that time I harbor hopes that I can make another trip to Patagonia with Far South Expeditions!" – A. Fedorchenko, Russia

"We just finished the 8-day tour of Patagonia, and it was an amazing experience. Far South Expeditions handled everything smoothly and efficiently, we literally just showed up and they took care of the rest. The lodging provided with the tour was great for the whole trip, and our guide, Rodrigo Tapia is a true expert. He was able to spot wildlife that we could not see – including a Puma, and was great at accomodating the needs of our group. Far South Expeditions was great in handling all the details. I would definitely use them again." – B. Funai, USA

"Many thank's to Far South Expeditions for my recent birding tour of Punta Arenas, especially to Cecilia Faundez and excellent birder/naturalist Sebastian Saiter for helping me find Magellanic Plover." – B. Nixon, UK

"Just a note of thanks to say that we enjoyed our trip to Torres del Paine on the botanical tour. We appreciated his friendly company. The accommodation and food was excellent, and we learnt a great deal about Patagonian natural history from Sebastian. The locations and walks selected for the tour were all interesting and different. We appreciated the flexibility of the schedule." – D. & B. Keith, Australia

"Just a quick note to say that we thoroughly enjoyed our Patagonian adventure. Sebastian was an excellent guide and found us so many things; he was a great companion and always pleasant." – D. & D. Stannard, UK

"We enjoyed the trip very much and have many beautiful photos of the scenery and wildlife in this region." – D. James, UK

"David was an excellent guide for our King Penguin Day Trip. As a whole, Far South is running a very efficient tour company." – P. Leslie, USA

"The highlight of our whole cruise around the Cape from Buenos Aires to Valparaiso was the half day excursion to see the incredible condors of Patagonia. The condors were most amazing. About 100 gather on the ranch at a cliff and we were privileged to see them roosting, stretching and flying en mass. This was a really authentic wildlife encounter." – D. King, USA

"I asked Far South Expeditions to put a trip together to Patagonia for our small group of six, four of us being serious amateur photographers. Once I contacted Far South I knew that we were in good hands. Cecilia (who answered my endless questions) and Claudio put together the perfect trip. I can not recommend Far South Expeditions highly enough. It is a first rate, professional organization with vast personal knowledge of Patagonia." – R. Badger, USA

"Far South Expeditions organised and booked a three-week tour with an outstanding expert guide, driver and minibus for two couples with interests in bird-watching, wildlife, history and culture. The tour was fantastic. Our guide, Rodrigo, was excellent. His English was flawless and as a Chilean Spanish speaker his help was essential. He is at the very forefront of southern South American ornithologists, with an encyclopaedic knowledge of the local and world-wide avian fauna, and also of other animals, plants and natural and cultural attractions of Chile and Argentina. He is an interesting, friendly, amiable and amazing person and an outstanding photographer. The places Far South Expeditions booked for us were all good quality, with some of them being outstanding, and Rodrigo's local knowledge meant that we saw many fascinating animals and places that we would not have known about or found for ourselves. We loved this tour with its wildlife (penguins, flamingos, guanacos, vicunas, llamas) and contrasts from the Punta Arenas area, to Ushuaia on the southern end of Tierra del Fuego, to the Andean peaks, glacial lakes and old growth southern beech forests and glaciers of El Chalten, El Calafate, Torres del Paine and finally to the starkly beautiful, high altitude, desperately dry altiplano, active volcanoes, salt lakes and peaks of the Atacama desert. Throughout, our guide and drivers were terrific: patient, helpful, friendly and knowledgeable. It was an unforgettable trip and we highly recommend this tour company and its staff." Don Gartside, Australia